Coal Creek Motel Location

8444 South Gippsland Highway, 3950 Korumburra, Australia
Coal Creek Motel located in Korumburra
The motel is located in Korumburra, known as the \"Heritage Centre of South Gippsland", which is situated in the scenic rolling foothills of the Strzelecki Ranges, west of Leongatha. The town is a hub of activity and centrally located to many of South Gippsland's major tourist attractions.
Coal Creek Community Park & Museum
It is also the home of Coal Creek Community Park & Museum which re-creates life in South Gippsland during the pioneering days of the late 1800s and early 1900s. What sets this park apart is that it is a heritage attraction built by a dedicated community. The park has free entry and is always a great day out for the whole family. Ride the bush tramway, dine in the cafe or simply enjoy the natural surrounds. Visit the animals within the park or enjoy a picnic in one of the many scenic spots around the park. Talk to the volunteers for knowledge on local history and let them amaze you with their skilled craftsmanship. Visit the general store for one of Victoria's finest displays and demonstrations of yesteryear. Learn the history of coal from its beginning and see the tools the men used to build their homes and their lives within South Gippsland. Every corner will take you on a journey of history and life of early settlement in Gippsland. OPEN EVERYDAY OF VICTORIAN SCHOOL HOLIDAYS.
Shopping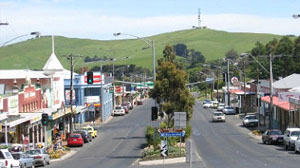 Korumburra's shopping precinct primarily stretches along the wide boulevard of Commercial Street which offers an attractive backdrop of green hills. More shops extend along adjoining Bridge Street and Mine Road, while the local supermarket is accessed via South Railway Crescent. Clothing, sports, photographic, gift and craft stores can all be found here.
Parks and Reserves
There are several parks and reserves located within the town. Off Bridge Street is Korumburra Botanic Park where visitors can enjoy pleasant areas of lawn in a semi-bush environment with a large variety of trees. Olsen's Walk follows the banks of Coalition Creek through the park and across several footbridges. Coleman Park, in Queen Street, has a playground, outdoor pool and shady picnic areas.
Cafes, Restaurants and Pubs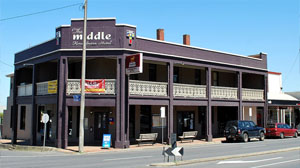 Korumburra's commercial precinct is home to a wide variety of dining establishments, from casual to formal. Boasting several cafés and bakeries, fish and chip shops, pizza parlours, Indian and Chinese restaurants and two Hotels/Pubs, you certainly won't go hungry in Korumburra.
How to get to Korumburra
Korumburra is approximately 90-minute drive from Melbourne on the South Gippsland Highway. V/Line bus services are available for travel (Melbourne to Yarram), which can drop you off and pick you up right at the door-step of Coal Creek Motel.